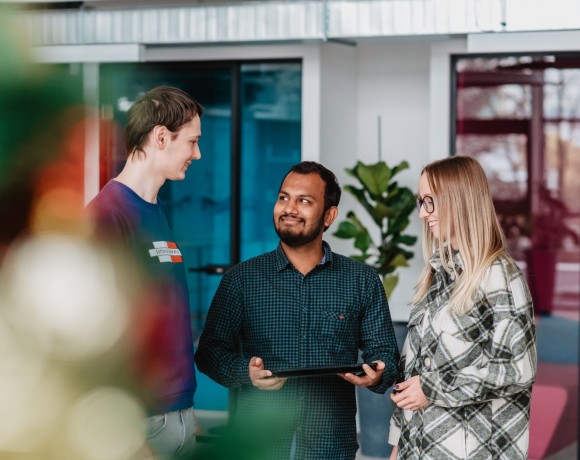 We are at the centre of an ever-changing digital world.
For more than 10 years, we have been helping companies in the Czech Republic manage complex digital changes and successfully adapt to the fast pace of technology. We believe that people and companies can achieve great results, especially when they work together. Our goal is to provide tailored services and solutions with a human touch. Simply "The best of ICT with a human touch".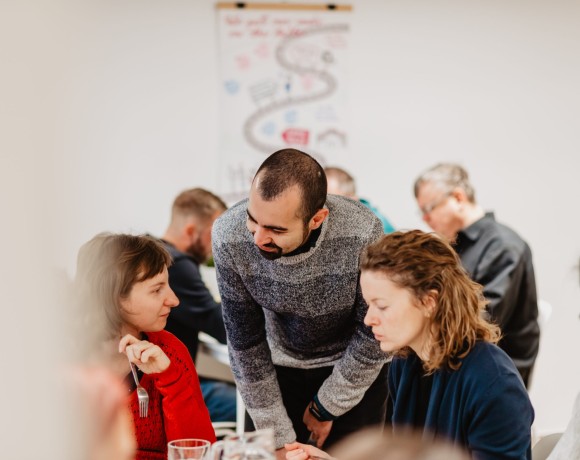 Our corporate DNA defines us and sets us apart from others.
It is a blend of our knowledge, values, goals and approach to work. We are a team of colleagues made up of different nationalities, generations, experiences and perspectives. This diversity gives us the advantage of being able to approach each project from several angles and find a comprehensive solution. We are each different, but we are united by our DNA (and a common language, English).
Stories of Axians people
It is the people who are the heart of our company. How do we work here? Read the stories of our colleagues.
What I enjoy a lot is that while being provided with top-notch work conditions, I don't feel burdened by overwhelming corporate policies all so familiar within bigger companies. I appreciate the human approach and the all-around friendly atmosphere in Axians, where one feels valued both as an individual and professional.
Bogdan
Technical writer
ICT with a human touch is not just a motto for us in Axians.
Radka
HR Specialist
The office atmosphere – how cozy but spacious it is. I prefer going there spending time with my colleagues. They are the best!
Petko
CISCO Admin
I love the chance to have conversations in any language and socialize with colleagues in the Prague office. It is so rewarding after the online era.
John
Technical writer
Smiles, positive energy, and great people, that's AXIANS! We are not only an IT company, but we are also a family, where I feel very comfortable, even if I have a hard day!
Adéla
Junior Network Security Engineer
Values
We named the company values, but we didn't want them to become just empty words on a forgotten flyer in the kitchen. We actually live our values every day. They're part of our DNA. They are not only manifested in our work and in our approach to customers, but they are also behind the good relationships with colleagues and the friendships that are formed.
More than just a job.
Our goal is to create an atmosphere and work environment that we can look forward to – on Mondays and after the holidays. We're building a company culture that we enjoy and in which we can feel comfortable most days.
We're friendly. We believe that cooperation and communication are key pillars of our success.

We take things as they are and talk to each other openly.

We trust our employees. With trust comes independence, but also responsibility.

We're on first name terms. We don't take ourselves too seriously. A relaxed atmosphere is the basis for us.
What matters to us
Developing potential is key for us at Axians. We like to turn our colleagues' visions into reality and it's not just empty words. Michal, Renata and Lucas are proof of that.
At Axians, we've cracked the code to a great team: we welcome not only people, but their best four-legged friends too!
"I may not be a complete expert on cybersecurity, but I always know where the treats are!"
Gigi,  Treat Supply Manager
At Axians, we've cracked the code to a great team: we welcome not only people, but their best four-legged friends too!
Did you know that dogs in the office can reduce stress and increase productivity? We do and that's why we are lucky to have Reya, our Happiness Manager. See that smile from ear to ear?
At Axians, we've cracked the code to a great team: we welcome not only people, but their best four-legged friends too!
"Don't let my occasional bored expression fool you. I'm just wondering where I'm going to rest."
Rufus, Power-nap Manager
#weareaxians #axiansczech