The AXIOM integration platform received the prestigious IT product 2021 award.
We are pleased that the AXIOM solution is a success on the market. We greatly appreciate the latest prestigious IT product award of 2021, published in Computerworld magazine. This competition highlights products that differ significantly from competing products in the same category. The evaluation emphasizes the positive difference from the competition and benefits for the customer. At the same time, we would like to congratulate all the co-finalists.
You can find more about the competition here.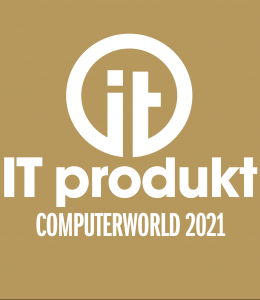 Axiom competes in the Enterprise software category
The platform integrates operational and production technologies into a single system and user unit to monitor them and streamline management, including securing operations against failures or outages. The aim is to create an intelligent integration environment that can aggregate current operating technologies with modern sensor elements, analyze operating conditions and also optimally control the operation of individual operations or appliances.
Smart integration platform enables monitoring and analysis of integrated devices or production systems and buildings using elements of artificial intelligence, their management with the possibility of defining the interconnection of these systems. It thus offers maximum efficiency of the use of energy resources, saving of operating costs, supervision of the operation of technologies and, last but not least, prevention of operation. All systems can be controlled from a single centre, even via mobile application or web portal. The platform is highly scalable and easily expandable with additional IoT sensors.
Interesting product features:
An open platform for suppliers and existing systems – universal, independent of the manufacturer of connected systems
Provides and automates subsystems with the possibility of using artificial intelligence and machine learning tools
Optimizes processes and minimizes operating costs
Modular architecture, locally operating platform, from the cloud and in a hybrid scenario
References from production to smart cities